Wash cloth nappies with the power of the nature that is 100% safe for the most sensitive skin.
Here are 8 easy steps for routinely washing reusable nappies, without using any harmful substances and toxic ingredients.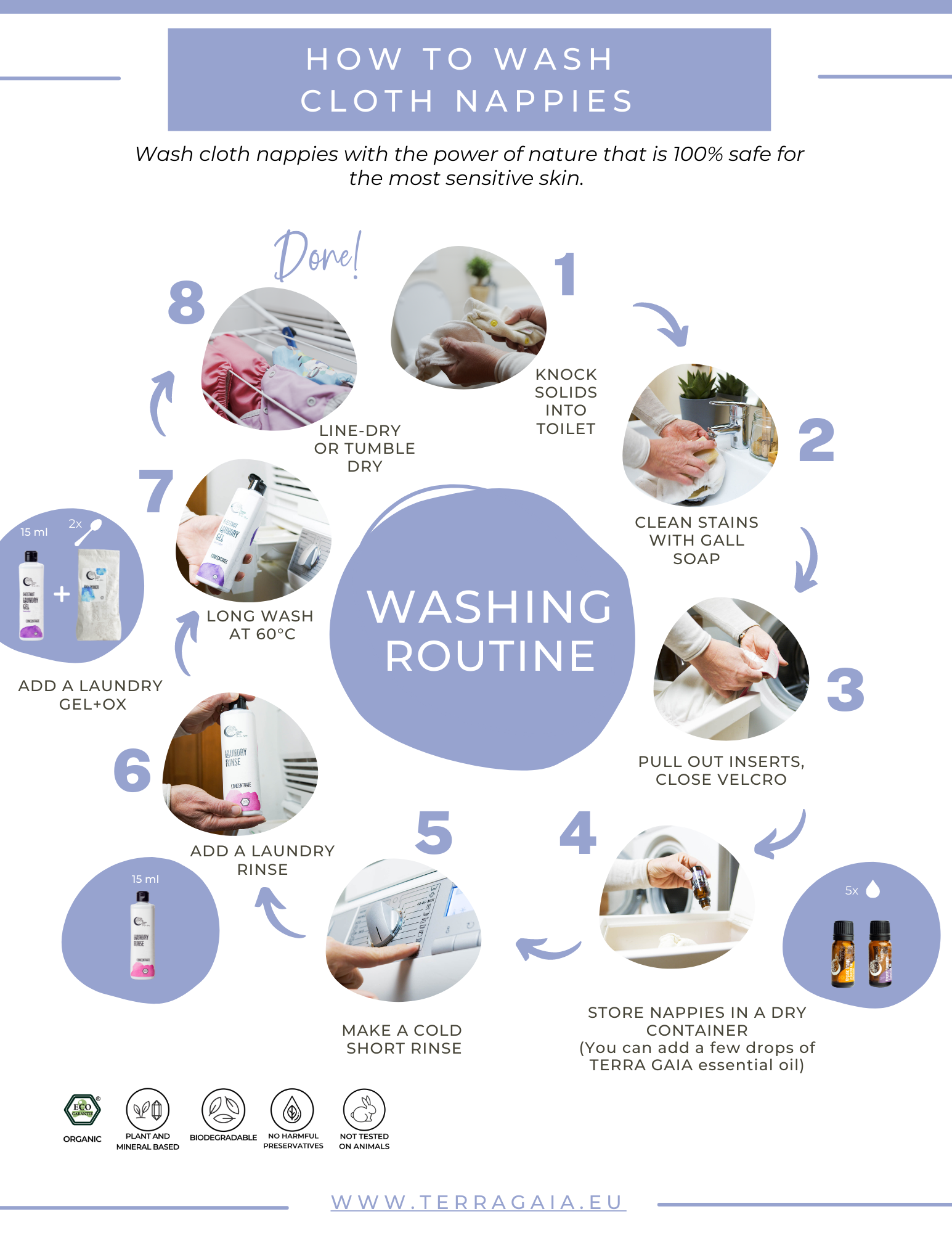 Knock solids into toilet
Treat stains with Gall soap and water
Pull out insert, close velcro
Store nappies in a dry container - you can add a few drops of Terra Gaia essential oil
Make a cold short rinse before regular washing
Add Laundry chestnut gel ( 2 caps) + OX (1 spoon) and Laundry Rinse (2 caps)
Do long wash at 60°C - do not overload washing machine, fill to 3/4 max.
Line dry
Nappies can be washed at 60 degrees celsius. We don't recommend tumble drying after each wash as it reduces the lifespan of your nappies. You can tumble dry sometimes (1-2 times in the month) to redeem the fabric and make it softer. Always use the lowest drying temperature and shortest time.
Nappy wraps can be washed at 60°C, don't dry in tumble dryers or close to heaters. The best method is to hang them out to dry in the open air. Wraps can be used several times before washing. Either reuse straight away or alternate, letting one air out.
Don´t use any bleaching agents, potassium, fabric softener and enzyme products or enzyme products which damage the fabric and shorten the lifespan of nappies and wraps. Using ecological washing products can help babies with skin problems, save nature and protect the fabric.
We recommend rinsing nappies and wraps in cold water without washing products to remove urine before regular washing. Afterwards, you can add other clothes, washing products and wash as usual. Don´t overfill the washing machine, use at max. 2/3 of capacity. Modernern washing machines use very little water for efficiency, but this may not be as good for soiled nappies. So if you have a problem select the high water level wash option.
For washing baby products we recommend Chestnut Laundry gel. Stains can be easily removed by using Gall soap.
Everything you need for cloth nappy washing is in our Trial Laundry pack.
Any questions ?
Call us +420 605 508 948 (English) 9:00 am - 3:00pm (CET) or send us an email